Baking and Pastry Arts
Find out all you need to know about baking and pastry arts, the skills you can develop by studying them and the kind of careers they can open up.
Do you have a passion for baking and desserts and want to turn it into a rewarding and exciting career? Studying baking and pastry arts and gaining a degree from a good culinary school is essential if you want to develop the kind of skills you'll need in the profession.
What is baking and pastry arts?
Baking and pastry arts is all about the breads, desserts, cakes, confectionery, pastries and other baked treats that are not generally part of the main course on a menu.
If you're serious about making baking and pastry arts a profession, the best way is by studying for a degree at a world-renowned school.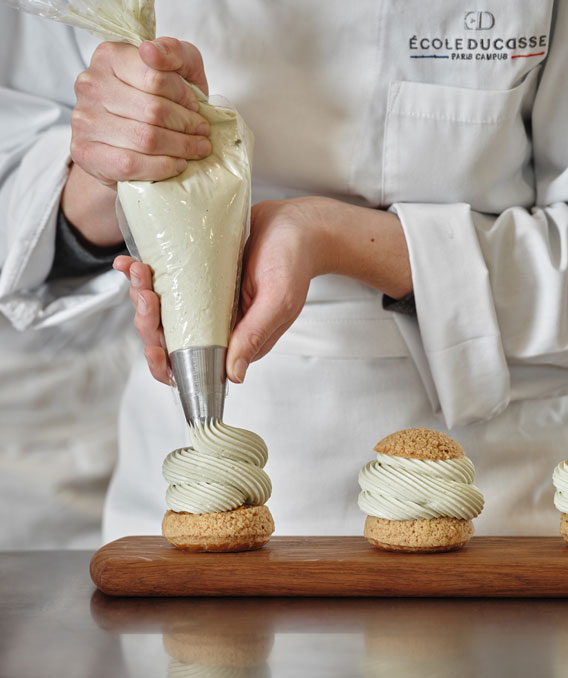 Pastry arts degree
A baking and pastry arts degree is the perfect preparation if you have designs on becoming a skilled practitioner and recognized in the industry.
You will learn to master the traditional and modern pastry, bread, and dessert-making techniques as well as presentation and design skills and managerial know-how so you can become a leader in your field.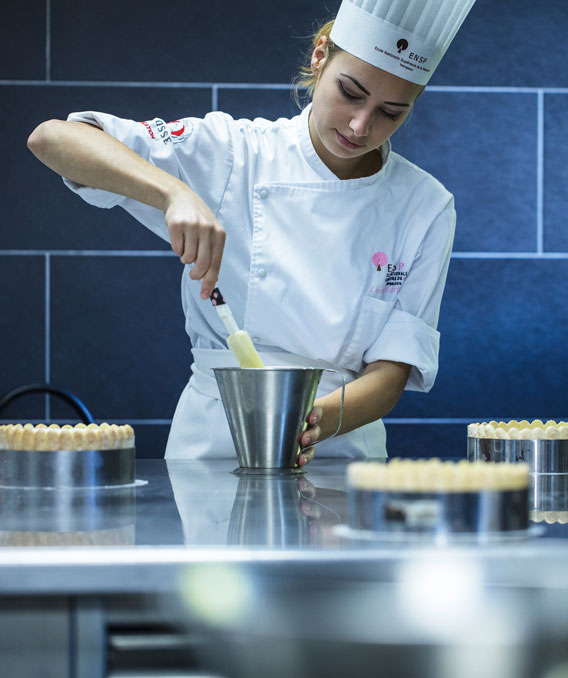 Types of baking and pastry arts degrees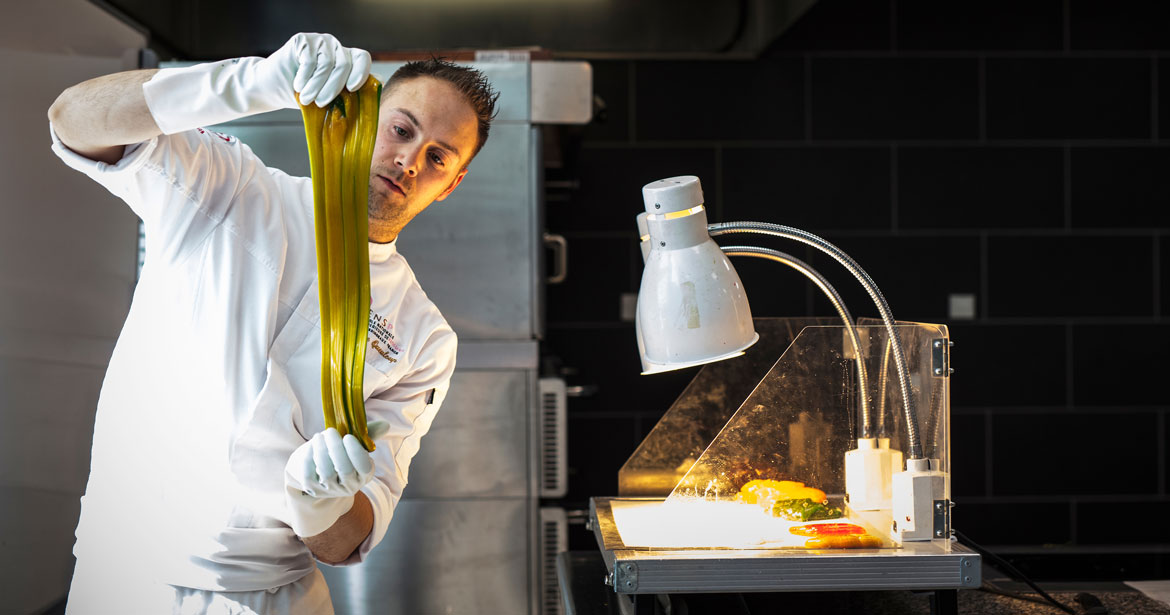 Bachelor's degree
If you're fresh out of high school and are set on a baking and pastry arts career, a Bachelor's degree is the perfect springboard into the industry.
Usually lasting three years, a Bachelor's degree will teach you about:
Fundamental and advanced French pastry arts techniques
Fundamental and advanced bakery and chocolate techniques
Confectionary, ice creams, and sorbets
Tea time and travel cakes
French classics
Bistronomic desserts
Modern entremets
Gastronomic desserts
New trends in French pastry
Career switchers
If you're already working in another industry but want to take a different direction and turn your hobby into a baking and pastry arts profession, a Diploma or essentials course could be right for you.
These can range from a few weeks to up to nine months in length and will teach you:
Pastry arts fundamentals
Bread and Viennoiserie
Restaurant desserts
Chocolate & confectionary
Ice Cream and sorbet
Artistic pastry
Pastry arts degree careers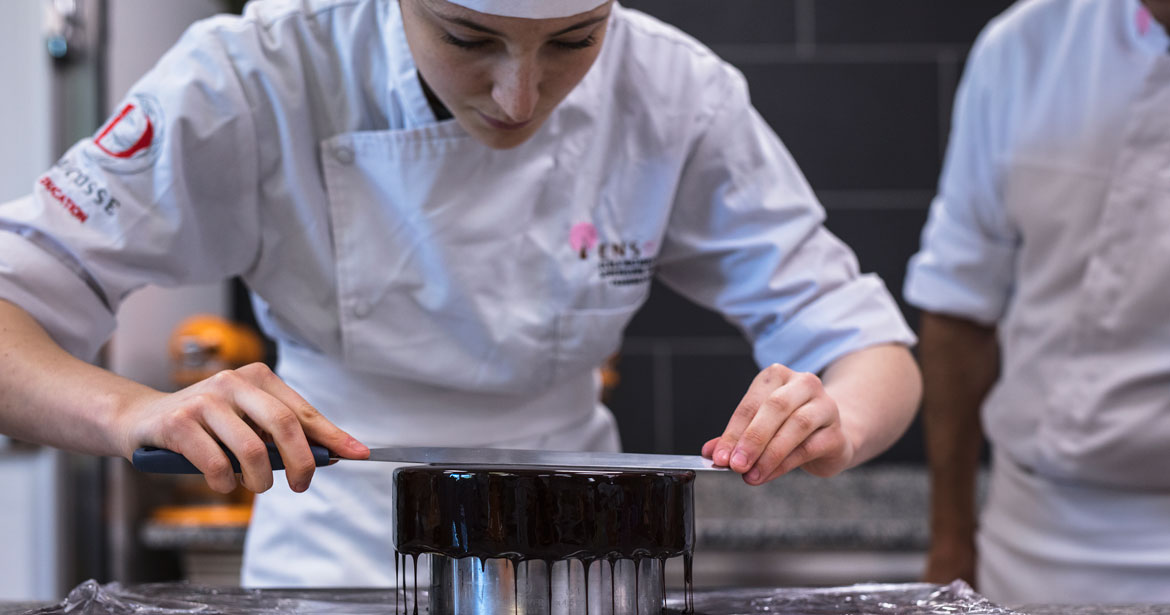 Entrepreneur
Many baking and pastry arts graduates go on to run their own businesses as bakers, patissiers, confectioners, caterers or even pastry arts tutors.
Pastry boutique owner
Boutique cake and pastry shops can be found the world over and are often owned by baking and pastry arts graduates, who apply their skills, artistry and knowledge to delight customers.
Pastry chef
As a baking and pastry arts graduate, you will be qualified to land your first role in the kitchen of a high-end hotel or restaurant and rising to the top and becoming the head pastry chef.
Product development manager
Deploy your knowledge and skills in industry, devising new recipes and products for food manufacturers, caterers or other hospitality businesses.
Pastry industry manager
Since you will learn business management and entrepreneurial skills as well as how to make pastries and desserts, you could gravitate towards the administrative side of a baking, pastry or catering company.
Pastry consultant
Instead of working in a hotel or restaurant, you could offer your expertise to them so they can improve their baking and pastry offerings, which can include developing new recipes, training staff or suggesting kitchen equipment upgrades.
Baking and pastry schools
If you've decided to study baking and pastry arts, you will need a pastry school that's right for you.
A good pastry arts school is the only place you can be sure you will learn from qualified, well-renowned professionals who will be able to take your skills to the required level.
While most pastry schools will be able to provide a reasonable level of education, there are several other factors you should consider in your decision.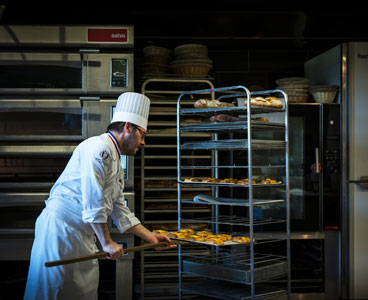 Facilities
Great facilities can make all the difference, so look for a school that offers high-end, state-of-the-art kitchens, training labs and classrooms.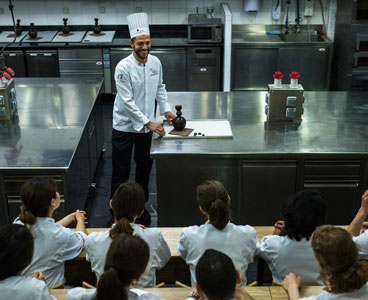 Faculty
Schools that employ master patissiers, artisan bakers and high-end dessert makers offer the best baking and pastry arts education.
Check the student-to-faculty ratio to so you can get the attention and guidance you need.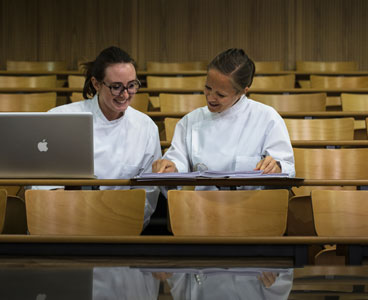 Practical and business skills
You should look for a combination academic study and practical, hands-on learning.
The best pastry arts schools will provide workshops where you get to hone your skills alongside business and management courses that prepare you for leadership.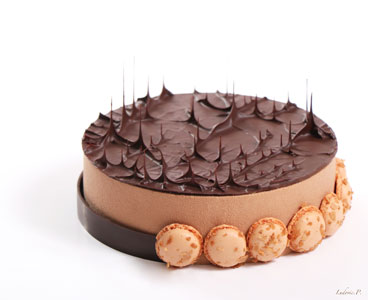 Reputation
Check a school's reputation, not only academically but also among leading lights in the industry.
The best baking and pastry arts schools will be accredited by an independent education body that guarantees certain standards of teaching and will be world renowned for their pursuit of excellence.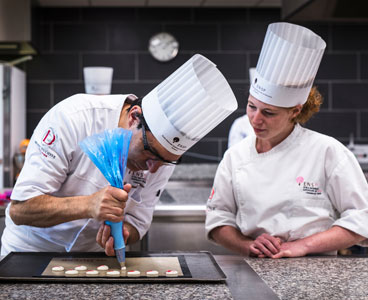 Real-world exposure
As with most hospitality and related programs, there's no substitute for learning in a real-world environment.
The best baking and pastry arts schools will offer at least one internship opportunity to give you the kind of valuable work experience you'll need to give you the edge.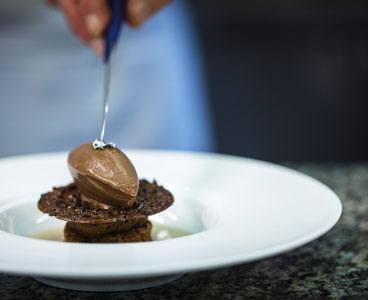 Employability
Find out how many of the school's graduates find jobs once they've completed their studies and where they end up working.
The best schools will have alumni working in some of the world's best restaurants and hotels.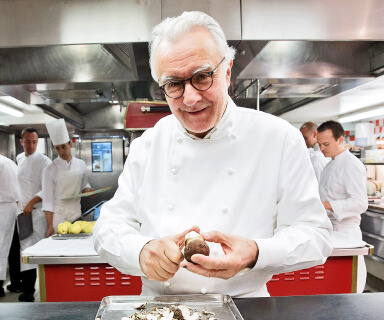 Ecole Ducasse: a global reference for baking and pastry arts
World-class facilities, internationally renowned teachers and programs that blend theory and practice make Ecole Ducasse the perfect choice.
Learn more
Frequently asked questions
What degree is best for Culinary Arts?
How many years is Culinary Arts degree?
Typically, a culinary arts degree will take three years, though internships or work placements can mean they last slightly longer. Check each program before applying.
What can I do with a Bachelor's degree in culinary arts?
Most culinary arts graduates are aiming to be professional chefs, but there are many other roles you can perform with the transferable skills you will learn on a culinary arts program.
These include entrepreneur, restaurant manager, F&B manager, events and catering manager, product development manager and culinary consultant.
Learn more about Culinary Arts