Is being a chef a good career choice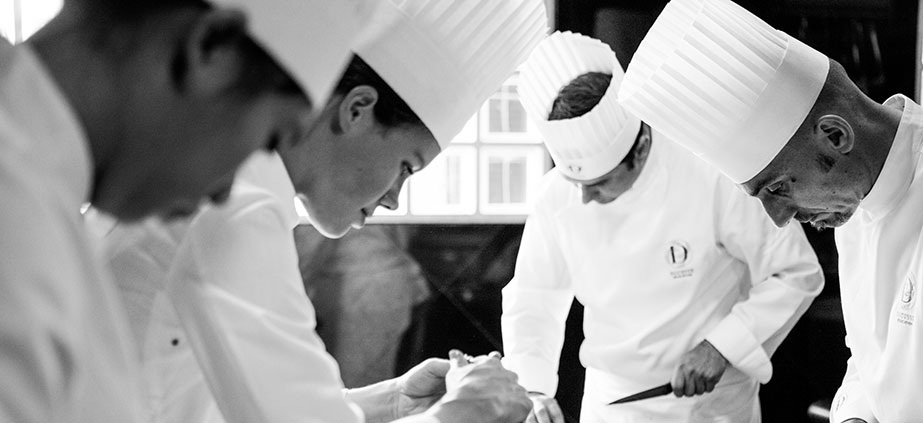 If you have a passion for food, enjoy working as part of a team and crave creativity in your career, becoming a chef could be your calling.

While not for the faint hearted - being a chef is demanding work - a culinary arts career can be hugely rewarding. And landing a role as a chef means mastering a huge range of professional skills, from knife-handling and pastry arts to food design and business acumen - the kind of skills that will stay with you for life.

Benefits of being a chef

Being a chef allows food fans to follow their passion and carve out a career that they love. Not only that, a culinary career will give you:

Job satisfaction - it's a hugely rewarding career with plenty of opportunities to excel and experience a great sense of achievement on a daily basis.
Career progression - the culinary industry offers great and structured career progression, from commis chef, demi chef and chef de partie to sous chef, chef de cuisine and finally executive chef.
Variety - becoming a chef opens up a world of career options and gives you skills you can deploy all over the world. Not only that, you can choose to specialize in a dizzying array of different cuisines or disciplines, so the world really is your oyster.
Creativity - it goes without saying being a chef allows you to be creative and truly indulge your passion for cooking.
Personal development - just because you're a successful chef doesn't mean you stop learning. There is always something new on the horizon, different techniques to master or novel flavours to experiment with in the kitchen.
Great prospects - good chefs are always in demand and there is a thriving job market in the cooking industry, so you should find it relatively easy to land a role that's right for you.
Dynamic industry - the world of cuisine never sits still and there are always new and emerging trends to keep things interesting. These include farm-to-fork, sustainability, plant-based food and flexitarianism.

What skills do you need for a successful career as a chef

Although being a chef can be an immensely rewarding career, to become a successful one, you need to learn all the culinary skills and techniques used every day in a professional kitchen.

While some head chefs have learned on the job and worked their way up through the ranks, the best way is to attend a culinary school. Ideally, you should choose one that has a great reputation and strong links with industry to improve your career outlook and get the best possible start in the culinary world.

Among the things you will learn at as part of a culinary arts degree are:

Mise en place – preparation and set-up of a kitchen before cooking.
Food preparation – includes knife skills such as dicing and mincing, how to debone fish, cut meat and chop vegetables.
Sauces and stocks – making the sauces that form the basis of classic French cuisine and preparing stock, bouillon and broths used in a wide variety of world cuisines.
Fundamental cooking methods – all the essentials of traditional and modern French cuisine, such as sautéing, broiling, poaching, braising, en papillote and flambéing.
Flavor and food pairing – how to detect and balance different flavors, how to develop new taste sensations, how to pair different foods and how to identify which foods go well together – and which do not.
Presentation – you will develop a range of plating and presentation skills that will elevate your dishes to the highest level.
Food science – how food changes when cooked and how to apply different techniques and technologies to deliver new and exciting flavor sensations. And how to fix things if they go wrong.
Entrepreneurial skills - as well as teaching you all the cooking skills you'll need, a good culinary school will make sure you know how to run a business too.



Practical skills and industry exposure

But it's not all about the classroom. Being a chef is a hands-on career and that's why the best culinary schools will focus on developing your practical skills alongside your academic knowledge.

It's also important you get a feel for what it's like working in a real-life kitchen, so most culinary arts schools will include some kind of work placement or internship program to give you the kind of exposure to the industry you'll need to succeed.

The best culinary schools have links with all the best names in the hospitality and restaurant industry and will place you in kitchens you could only dream of if you didn't have the right connections.

Just the thing to develop your culinary creativity and massively improve your career outlook.

Knowledge and exposure of the latest trends within the industry
If you're ambitious and want a successful chef career, it's important you stay up to date with the latest trends in the industry.

A good culinary education involves learning the basics, understanding the classics and being exposed to new ideas and ingredients, whether through internships or in guest lectures delivered by visiting culinary experts.

The restaurant business is a dynamic industry and frequently responds to new challenges and realities, so staying at the forefront of the latest trends is critical if you want to be among the best.

Business understanding

People with a passion for food often dream of owning and running their own restaurants, but it's not enough to just be a great chef. The same is true for those who aspire to managing a chain of restaurants or a food franchise.

That's why the best schools make sure business management is an integral part of the curriculum. You'll learn all about ingredient ordering, inventory, marketing, personnel management, budgeting and accounting - all vital skills for running a successful food business.

Reality of being a chef

No matter what your culinary dreams are, the reality is always different. Being a chef is not easy and it requires a lot of time, energy and dedication to get to a good standard.

You will need to be passionate about it, because the hours can be long and unsociable and kitchens are a stressful environment.

But the highs you experience successfully getting to the end of a shift and the job satisfaction you can get from delivering high-quality dishes and earning plaudits from restaurant reviewers and customers alike will make it all worthwhile.

The best chefs dedicate their entire lives to training, lifelong learning and constantly developing their skills and knowledge because they are following their passion and rewards are immense.

Chef salary

As with many roles in the hospitality industry, the salary a chef can command corresponds with experience.

Those just starting out will not be earning much more than the minimum wage, but as your career progresses, so will your salary. And if you reach the heights of executive or head chef, the years of hard work and dedication will begin to pay off.

Many of the best-known celebrity chefs started out as trainees and worked their way up through the ranks in the kitchen before going on to open their own restaurants and even chains. But even if you're not a 'celebrity', the financial rewards can be considerable if you become an entrepreneur and your restaurant is highly rated.

Can you switch career and become a chef?


One of the world's most famous celebrity chefs - Gordon Ramsey - was previously a professional footballer, so as long as you have the passion and dedication, you can change careers and become a chef whatever your current role.

Key to this is having the desire and the drive to make it happen, but you can improve the likelihood of landing a culinary career - and speed up the process - by studying a culinary degree.

Among the many advantages a culinary degree will give you if you are considering switching careers are:

Confidence you are learning all the necessary skills and getting the right training from highly respected chefs in a recognized, independently accredited culinary institution.

Access to practical facilities such as food labs and kitchens so you can learn the latest techniques, test your knowledge in a working environment and further hone your cooking skills.

Exposure to industry through internships or practical work experience, which is crucial for landing your first role in a professional kitchen.
Introductions to high-end restaurants and hotel groups, the kind of potential employers you would be unable to access without a culinary degree from a well-connected school.

Introducing Ecole Ducasse as a gateway to a successful career as a chef
State-of-the-art culinary education at Ecole Ducasse, driven by the Michelin star Alain Ducasse.
A bachelor's degree in culinary arts from this world-renowned institution will give you the best possible start in your career as a chef