How to be a professional chef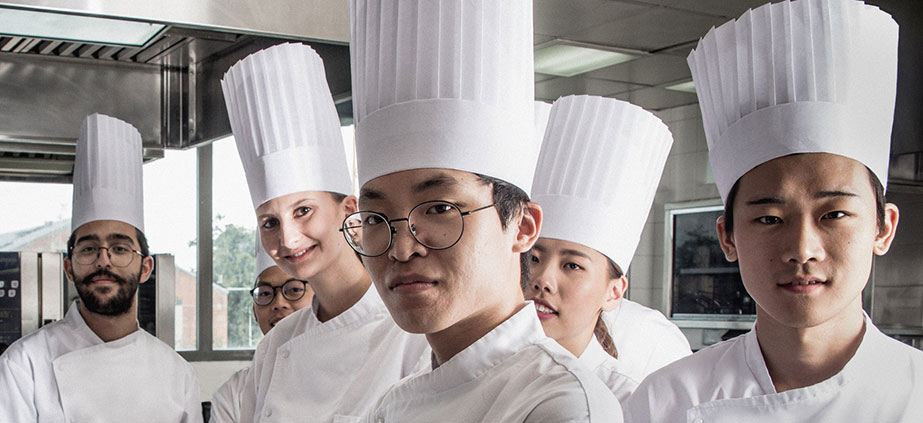 If you're interested in turning your cooking skills into a career as a professional chef, read our definitive guide into what you need to know.
What to study to become a chef

Professional chefs need to have a strong foundation in culinary excellence, be able to master the relevant cooking techniques and stay up to date with all the latest gastronomic trends.

While you can acquire the experience you'll need on the job, the best way to learn is by getting an education at a recognized culinary school from leading experts in the field and dedicating time and effort to honing your skills.

If you're really ambitious and see yourself eventually owning your own restaurant, you will also need entrepreneurial qualities and a good knowledge of business skills such as hiring and managing people, sourcing ingredients and marketing.
How long does it take to study to become a chef?

Food trends come and go and, as such, the best chefs never stop learning and are continually experimenting with different ingredients and new cuisines, so in a sense, studying to become a chef can take a lifetime.

But to become professionally qualified, there are a range of different options you can choose from in pursuit of your culinary career goals.

These range from eight-week introductory courses and nine-month diplomas to three-year bachelor degrees in culinary arts.

At the best culinary schools such as Ecole Ducasse, you can expect to spend up to three five-month periods gaining invaluable practical experience on internships at top quality restaurants while you study.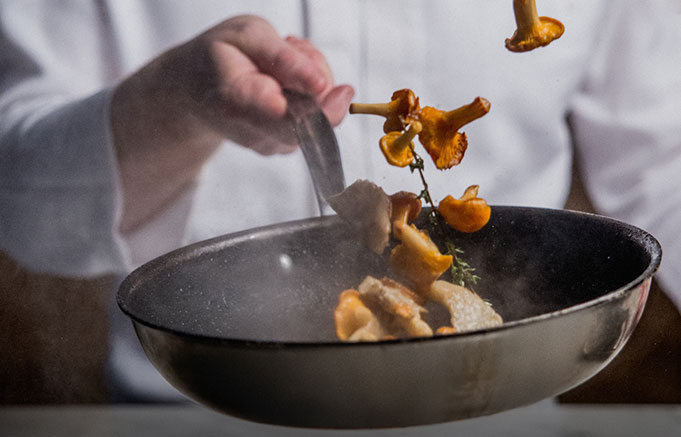 How to Start Your Career as a Chef

Landing your first chef position in the food industry can be difficult, so the best way of pursuing your culinary career is by getting a formal education at a recognized culinary school or technical college.

You should look for institutions that have faculty made up of leading chefs who can teach you all you need to know, from the most basic fundamentals of cooking through to advanced culinary techniques.

Schools with the best reputation that are recognized by independent educational accreditation bodies will ensure you get the kind of education and develop the sort of skills high-end restaurants expect.

Not only that, they are able to place you in internships with restaurants you would never access through less well-renowned schools. That kind of experience is the perfect foundation for a successful culinary career.


What degree do you need to become a chef?

While you don't need a degree to become a chef, studying for one significantly increases the chances of you landing a good role at a top restaurant or hotel and greatly improves your career prospects.

The type of qualification you need will depend on your ambition, your current level and the amount of time you have available for a culinary education.

If you're just out of high school, your best options are to study for a bachelor's degree. This could be in culinary arts or in French pastry arts, depending on which type of chef you want to be.

But if you're already a graduate or are looking to switch careers, it may be a better idea to look for a diploma course that will teach you the fundamentals and give you the chance to apply your skills in the real world.
Ecole Ducasse offers diplomas in both Culinary Arts and French Pastry Arts, both of which last 10 months and include placements that will put you to work in a professional kitchen.

Here you will get the opportunity to:
Learn from leading industry professionals who are experts in traditional French cuisine as well as the latest gastronomic and industry trends
Attend a school founded by a Michelin Starred chef that strives to ensure students live up to his very high standards and values
Work in renowned quality restaurants that you would not be able to get to off the street during two internships
Practise your skills using high-end facilities with the latest professional equipment
Learn to be a chef in the home of gastronomy at one of the school's two campuses in France: Paris Campus or Ecole Nationale Supérieure de la Pâtisserie at Yssingeaux.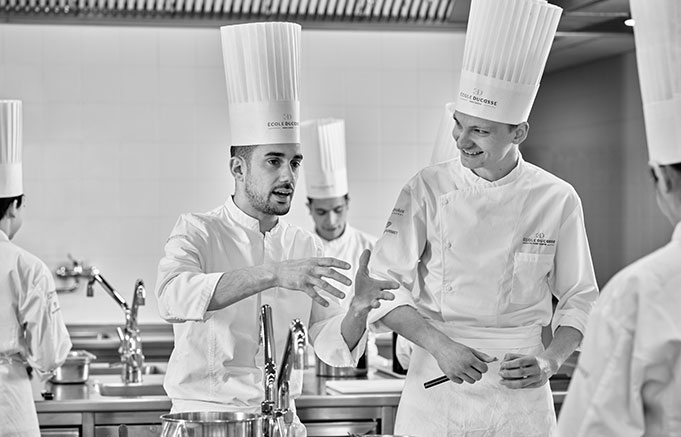 What Are the Different Types of Chefs?
There are lots of different names and types of chef, so to cut out the confusion, here is a quick overview of who they are and what they do.

When you study to become a chef, most choose to specialize in culinary arts, but some opt for pastry arts. While there is some crossover, the main difference is that culinary chefs look after the starter and main courses while if you are a pastry chef, you are in charge of desserts and breads.

But the distinctions don't stop there. In a professional kitchen, there is a hierarchy - known as the 'Brigade de Cuisine - and each level has its own set of responsibilities and seniority.

From the bottom to the top, you have:
- Commis chef - works under the Chef de Partie to learn the ins and outs of a specific station in the kitchen. They have usually just finished formal training or are still studying.
- Chef de Partie - responsible for one of the several different sections of a kitchen. So they could be looking after sauces, butchery, frying, grilling or vegetables.

- Sous chef - shares many of the same responsibilities as the head chef, but usually they are much more involved in the day-to-day operations

- Chef de Cuisine - also known as the head chef, the Chef de Cuisine focuses on managing the entire kitchen and performs tasks such as controlling costs, staff management, buying and new menu creation

- Executive chef - the figurehead of the restaurant or group of restaurants, executive chefs are mainly managerial and not usually responsible for cooking.

What are the Typical Duties of a Head Chef?
So after years of hard work and dedication, you've reached the top and are head chef in a restaurant. What will you do?

While predominantly a management role, you will still be heavily involved in the culinary side of the restaurant. Head chefs typically take ownership of a wide range of duties, including:

- managing the food preparation process
- inspecting dishes before they go to the table
- devising new menus and developing signature dishes
- food inventory
- ensuring the kitchen meets health and safety guidelines, including food safety and hygiene

As well as being an integral part of the hustle and bustle of the restaurant kitchen, the head chef will also work behind the scenes and be heavily involved in the business side of the restaurant. Among other duties performed by the head chef are:

- accounting and finance
- sales and marketing
- hiring and training staff
- supplier liaison and sourcing.

Being a head chef is a hands-on management role that will call on all your powers of creativity, attention to detail and coolness under pressure and is a job that can be incredibly rewarding as a result.

What does it take to be a chef

It goes without saying if you don't like food then this is not the career for you, but if you really want to excel and become a successful chef, you need a genuine passion for cooking.

Not just a passion that will drive you towards being more creative, experimenting with flavours, learning new techniques and experiencing new things.

But also the kind of passion that will see you through the hard work and dedication you will need to master the fundamentals and gain the level of expertise you will need to reach the top.

Make no mistake, being a top chef involves years of hard work and long hours, so your passion will have to sustain you through the tough times before you begin to reap the rewards.

What Type of Salary Can I Expect to Earn?

Salaries depend on factors including your seniority in the kitchen but also the type of restaurant you are in and its location.

It's when you progress to the top level that you can really command high salaries, particularly if you own your own establishment or become head chef in a Michelin-starred restaurant.

But if you want to reach the upper echelons of the industry, you need to invest in a good formal education at a renowned culinary school that will give you the kind of training top restaurants expect, delivered by expert chefs and with a strong practical element.

The best culinary schools will give you opportunities you could never dream of without studying there because they have links with top restaurants where they can place you for all-important internships.
Proving yourself in that kind of environment is the only way to reach the top, so take the time to choose a culinary institution that delivers.

What training do I need?

Being a chef is a highly skilled role, so whichever route you choose into it, you will need formal training.

Primarily, you will need to learn the fundamentals of the professional kitchen, including:

Mise en place – preparation and set-up of a kitchen before cooking
Food preparation – includes knife skills such as dicing and mincing, how to debone fish, cut meat and chop vegetables
Sauces and stocks – making the sauces that form the basis of classic
French cuisine and preparing stock, bouillon and broths used in a wide variety of world cuisines
Fundamental cooking methods – all the essentials of traditional and modern
French cuisine
Flavor and food pairing – detect and balance different flavors, develop new taste sensations and pair different foods
Presentation – plating and presentation skills to elevate your dishes to the highest level.
Food science – how food changes when cooked, how to apply different techniques and technologies and how to fix things if they go wrong.
Entrepreneurial skills - a good culinary school will make sure you know how to run a business too.

To earn the 'white hat' takes a lot of dedication and, the better the teacher, the more effectively you will learn. That's why it's so important to study at an institution where you can learn from the best.

And all the theory in the world won't help you if you've never put it into practice, so internships or placements are crucial. The best culinary schools have the best connections with the best restaurants, so look for a culinary arts program that can place you in the best establishments if you really want to shine.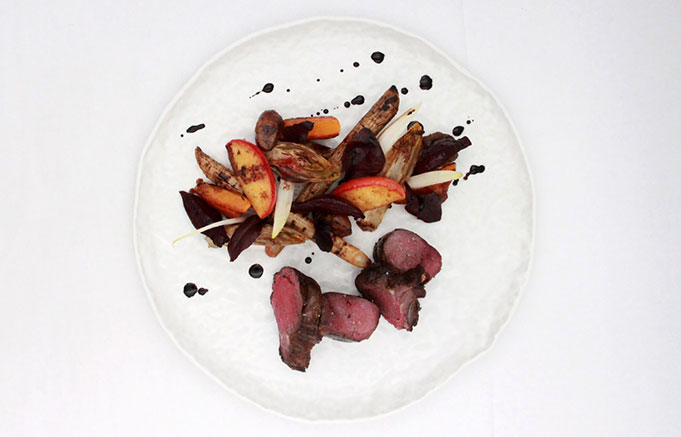 A culinary arts degree: your first step to becoming a chef

Study a Bachelors Degree in Culinary Arts at Ecole Ducasse and benefit from expert teachers, valuable internships and an incredible reputation. The perfect preparation for a successful culinary career.